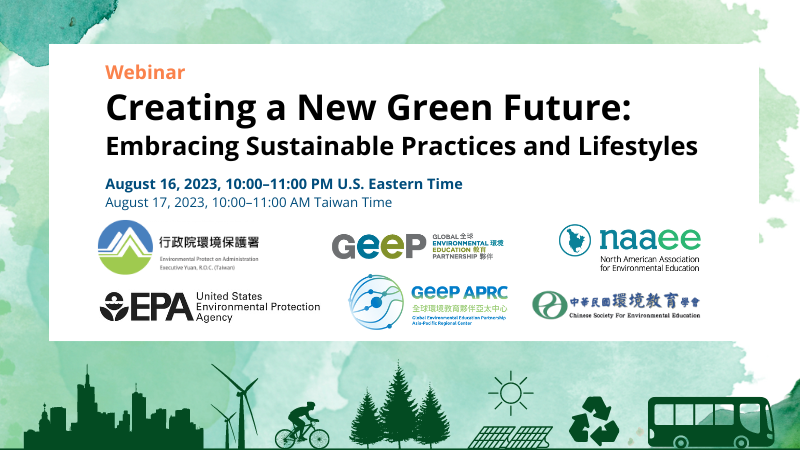 2023 Summer Webinar is on August 17!
August 17 at 10:00 AM Taiwan Time / August 16 at 10:00 PM US Eastern Time
Join us to learn about zero-waste practices and the role of education in building green lifestyles. Holly Liou, the CEO and Co-Founder of Baked Tipsy (Taiwan), and Sujitra Vassanadumrongdee, Senior Researcher at the Environmental Research Institute (Thailand), will present on their workplace on sustainability solutions in business and school settings. Learn how consumption and production can be made green for a more sustainable future!

Register here: https://eepro.naaee.org/learning/creating-new-green-future-embracing-sustainable-practices-and-lifestyles
Learn more about the speakers below:
Holly Liou: By replacing imported barley with near-expiration bread, as well as reproducing surplus bread and distillers grains into crisps, Baked Tipsy develops a zero-leftover food line and builds a sustainable living path with consumers.
Sujitra Vassanadumrongdee: Her research is on policy and laws on waste management and circular economy, she has also done some work on supporting schools towards zero-waste schools and organizing a summer camp to cultivate environmental leadership in youths.
This event is made possible by the Global Environmental Education Partnership (GEEP), GEEP Asia Pacific Regional Center, North American Association for Environmental Education, and the Chinese Society for Environmental Education.