The History and Strategies of Community-based Environmental Education
The History and Strategies of Community-based Environmental Education
Since 1997, the Taiwan Environmental Protection Administration (EPA) has carried out a number of environmental conservation initiatives at the community level, such as the Community Environmental Transformation Project, EcoLife, and the Community Environmental Investigation and Transformation Project. Its years of efforts have fostered an awareness of environmental protection in communities across the country which has proven to be a unique and dynamic force to be reckoned with. In order to enhance and assist the transformation of communities that have taken the lead in environmental protection, the EPA utilizes local manpower and resources to provide information and services centered on environmental education. The agency also aids these communities to become places for environmental education, outdoor teaching, and educational models for other communities. In 2009, the EPA initiated the recruitment and guidance phases of the Environmental Protection Classroom Program, a project focused on the promotion of environmental education. Resources and technical assistance channels were provided in order to encourage communities with a strong track record of environmental protection to join the program.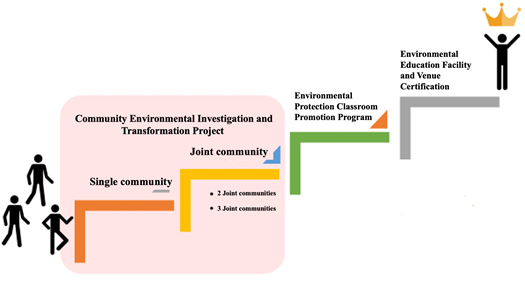 I.The Community Environmental Investigation and Transformation Project
The Community Environmental Investigation and Transformation Project aims to help communities with resolving local environmental issues by way of environmental surveying. The investigations are then paired with transformative action in order to pave the way for integrating environmental education into the community.
Communities can participate in the project as a "single community" or a "joint community." Those that have not previously participated in the project or that have participated for less than three years are designated as single communities. This provides beginners who wish to improve the community environment with the opportunity to familiarize themselves with the needs and resources of their community and to become members of disseminating environmental education. Advanced single communities are later designated as joint communities. After accumulating experience as a single community, a joint community can then invite surrounding communities to collaborate. This allows experienced communities to guide beginning communities with promoting environmental education and expanding its benefits through the power of teamwork. They can maximin possible synergies on the way to seek the common good.
The Community Environmental Investigation and Transformation Project consists of two parts: environmental investigation and environmental transformation.
1. Community Environmental Investigation

Environmental surveys about the local people, culture, land, industries, and scenery are conducted to identify the characteristics of a local community and any available resources. This information will serve as the basis for subsequent community transformation and future planning to develop the local environmental education industry.

2. Environmental Transformation

The main tasks include, but are not limited to group empowerment, environmental education promotion, environmental conservation and management, energy-saving measures and carbon reduction, the sustainable use of resources, and environmental protection and restoration.

Communities can implement these tasks to strategize and formulate solutions for local environmental issues. Participants are not only encouraged to see environmental protection as a part everyday life, but also to build an appreciation for the land and the area in which they live. This will allow communities to achieve the goal of establishing a high-quality living environment. In this phase, both single and joint communities are to focus on carrying out environmental surveys and transformations within their communities.
Ⅱ. The Environmental Protection Classroom Program


Communities that have been recognized for successfully implementing the Community Environmental Investigation and Transformation Project and wish to do more can apply for the Environmental Protection Classroom Program.


The program emphasizes the promotion and implementation of environmental education in order to build a deeper understanding of environmental education amongst community volunteers and residents. High-quality, diverse environmental educational spaces can then be created to attract those who wish to learn about the community and their efforts. Additionally, informative guided tours, experiences, and environmental education curriculums will not only strengthen a sense of community and identity amongst residents, but also improve the environmental literacy of both residents and visitors alike. These provisions, in the long run, will further develop an environmental education industry within the community and stimulate the local economy.


The Environmental Protection Classroom Program consists of community environmental conservation, the promotion of environmental education, the creation of official web pages, and compilations of implementation results.
1. Community Environment Conservation

Focus is placed on implementing environmentally-friendly methods and models, including prioritizing the use of existing facilities or idle spaces and buildings as neighborhood environmental educational spaces. Greening work is also coordinated with the characteristics and natural environment of the community and prioritizes the planting of native tree species.

2. Promoting Environmental Education

Environmental education curriculums are designed around community resources and characteristics. Environmental education and experience-sharing with neighboring communities are also promoted in order to expand the practice of environmental education. The effectiveness of these educational measures is then evaluated and progressively followed-up with additional environmental educational activities.

3. Recording the Results

This includes the preparation of reports and dynamic audiovisual media to present the results of the program. Official, user-friendly webpages are set up to introduce the developments of the program (e.g., activities and classes) to inform non-residents about the community and attract those who are interested in knowing more (the general public, communities, schools, enterprises, organizations, and other units) to visit.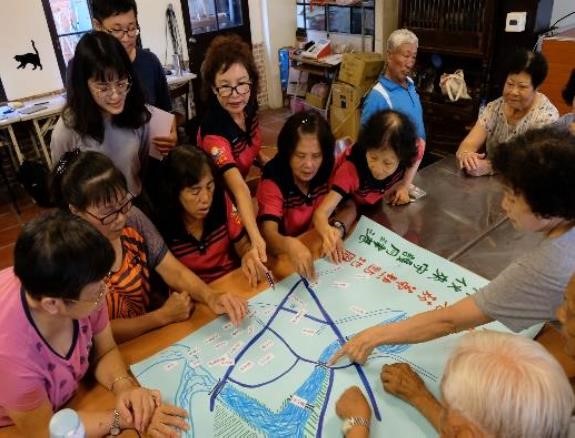 Ⅲ. A Case Study of Promoting Community Environmental Education: Yong'an Community, Taitung

The Yong'an Community is located in Luye Township, Taitung County. The village covers an area of 15.1 square kilometers and is home to more than 500 households and

a

population of over 1,700. The Yong'an Community Development Association was established in 1993 and has carried out extensive work in the area of community development.
Community building commenced in 2001. Tasks included local green beautification, promoting traditional culture through community reinvigoration, promoting community welfare, establishing neighborhood watch and guide service teams, developing the local leisure industry and community placemaking, opening trails to promote tourism, as well as creating learning workshops to promote local industries. All these measures were planned in consideration of the produce, lifestyle, and ecology of the community.

The local residents take great pride in their unique community programs and traditions. A rich variety of activities are held throughout the year. These include a community rice cake-pounding event around the Lunar New Year, a traditional noon water collecting activity with thousands of participants during the Dragon Boat Festival, and a mooncake charity delivery event during the Mid-Autumn Moon Festival. Hot air balloon and paraglider events, the Luliao Coffee Festival, and the Yong'an 2626 Weekend Market are also held within the community.

Yong'an continues to promote environmental education as an entire community and has won various accolades. The community was recognized as a model community for communal greening and beautification in Taitung County. It has received the 17th National Environmental Protection Model Community Excellence Award and the 2010 EcoLife National Campaign Environmental Assessment Excellence Award. Yong'an was also designated as a model community for low carbon emissions and has been a part of the Environmental Protection Classroom Program for three consecutive years. In 2013, the community was officially certified by the EPA as an Environmental Education Facility and Venue

,

a

nd later went on to represent Taitung County to earn the Community Award of the National Environmental Education Awards.

With wave after wave of community transformation, Yong'an Community is not only thriving but also continues to serve as a model for the promotion of environmental education. Today, it is now one of the most dynamic communities in eastern Taiwan.