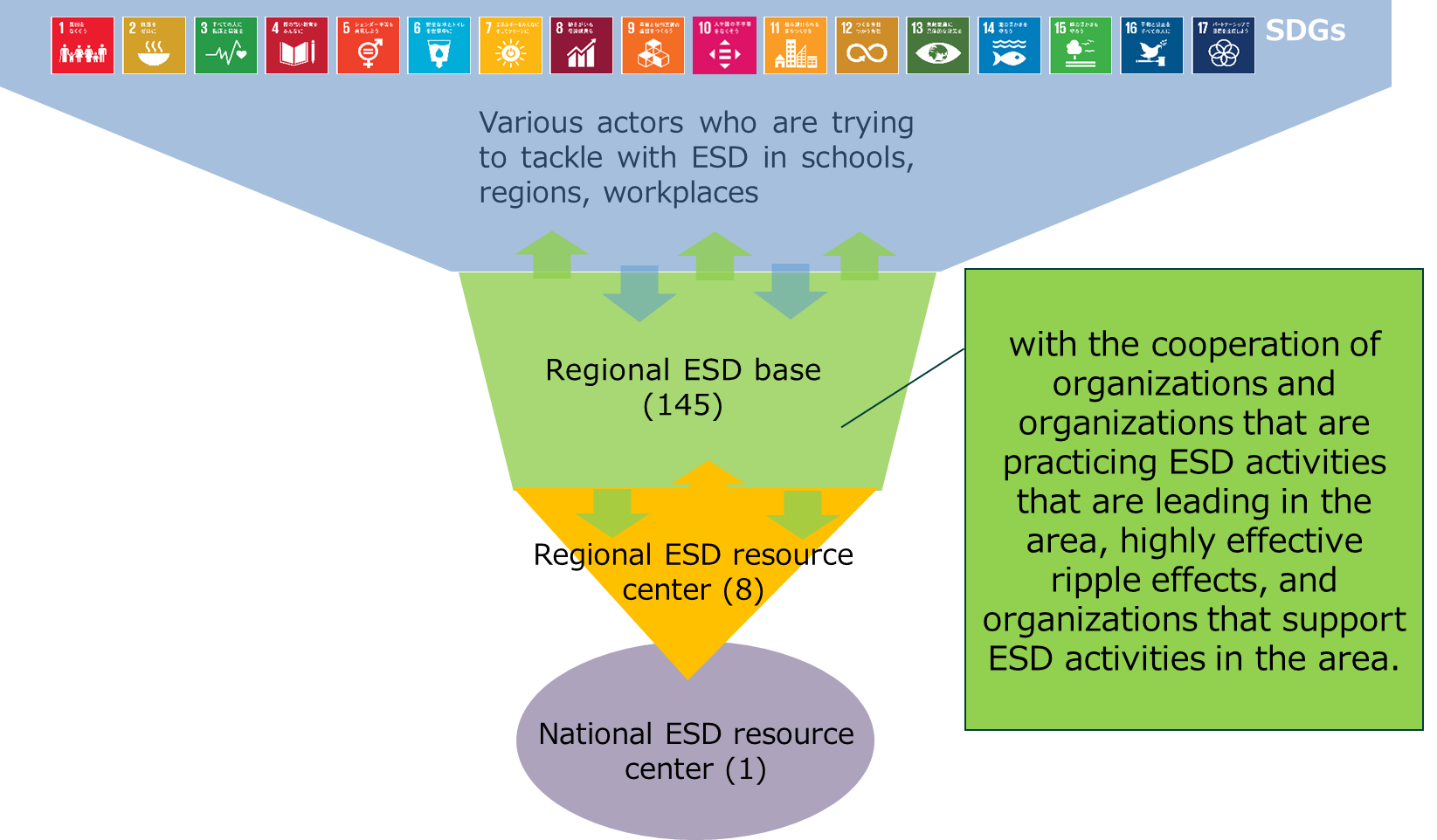 【Case Sharing】Case Sharing of Environmental Education and ESD Action Plan in Japan - shared by Keisuke Midori
Arthor:
Keisuke Midori
Position:
Section Chief of the Environmental Education
Affiliation:
Ministry of Environment, Japan


Background
Environmental Education is conducted in all settings, including schools, communities, and homes, with the aim of building a "Sustainable Society". Amid international movements such as the SDGs and Japan's drive to realize a decarbonized, sustainable society, and environmentally friendly society by 2050, there is an increasing need for Environmental Education to cultivate a desire to achieve the SDGs and the ability to practice and act toward achieving them through ESD practices.
Through the practice of ESD, it can be said that the knowledge, skills, and values acquired through educational activities not only in school education but also in all other settings, including social education and lifelong learning, should be applied to behavioral change to achieve the SDGs, which are also goals to realize a sustainable society.
History of EE and ESD in Japan
The Primary Environmental Education Law in Japan was established in 2003, it called for initiatives to further enhance motivation on environmental conservation activities, raised awareness for environmental issues, and to promote environmental education. The law was revised in 2011, it was defined Environmental Education as that aims at the development of sustainable society and deepens understanding of links of environment and society, economy, and culture. Certification of "
Place for Name-Based Experience
" is added in 2018.
In May 2021, to promote ESD in Japan by cooperating with all stakeholders and lead ESD in the world, Japanese relevant ministries work together to formulate "Second ESD Implementation Plan" based on "ESD for 2030". This plan clarifies the idea that ESD contributes to achieve all sustainable development goals for the first time. In addition to that, it presents methods to get various stakeholders involved to realize ESD and initiatives that each stakeholder in Japan will implement for each priority action area.
Recent Initiatives in Japan
Based on the Environmental Education Law and national action plan on ESD, the National ESD resource center was established in 2016, by collaboration between the Ministry of Education, Culture, Sports, Science and Technology (MEXT) and the Ministry of the Environment (MOEJ). Eight regional ESD resource centers are consecutively established in 2017. These centers are taking the role of a communication core in their region with cooperation of organizations which called "ESD base" that are practicing ESD activities leading in the area and making high ripple effects, and they support ESD activities in the area.
For such efforts to be effective, it is also important for all of us, from children to adults, to experience nature around us, which is the foundation of life in the first place, and to have rich experiences in forests, villages, rivers, and oceans. The National ESD resource center and eight reginal ESD resource centers support these experiential and practical activities in collaboration and cooperation with various stakeholders involved in ESD in a cross-sectoral and cross-disciplinary way, with local initiatives at the core.
The Courses of Study, which has been sequentially implemented from elementary schools starting in April 2020, include the development of "creators of a sustainable society" in its preamble and general provisions. The government, in cooperation with the Board of Education, is promoting the steady implementation of ESD at school sites based on the Courses of Study, with the aim of realizing a sustainable society. In August 2021, to further enhance education on global environmental issues, the MEXT revised part of the Courses of Study for junior high and high schools (science and geography/history), specifying, among other things, that "the realization of a decarbonized society" should be addressed.
Looking at our international dissemination work, we are supporting the promotion of ESD in various countries through contributions to a trust fund for UNESCO, the leading agency for SDG 4, and other activities. Furthermore, we cooperate with the United Nations University's ESD program and projects for the integrated achievement of the SDGs, and we support efforts to achieve the SDGs based on education and research in the field of sustainability, while strengthening cooperation with universities in Japan and abroad.
Recently, to support Environmental Education in school education, we have been implementing a project to develop leaders who will practice and promote Environmental Education and learning in schools and communities with the aim of building a sustainable society, and many teachers and staff from across the country have participated in the teacher training programs. In addition, for elementary and junior high school teachers, we prepared video materials on basic knowledge for a decarbonized society and materials to illustrate activities in the classroom.
Furthermore, since environmental education is not a subject in Japan, the "Map of Learning," which organizes the contents of each subject considered relevant to Environmental Education in the Courses of Study, was reconstructed in relation to the ESD model program (examples of class development and practice), and a web page was also created to serve as a reference for environmental education and ESD practice.
Summary
As Japan, we believe that Environmental Education and ESD are major engines for advancing efforts to realize the SDGs toward 2030. By linking our respective efforts with each other, we expect to be able to accelerate the enhancement and development of what we have been promoting so far.
-- about
Advisory Committee Meeting
--
Case sharing
from other countries