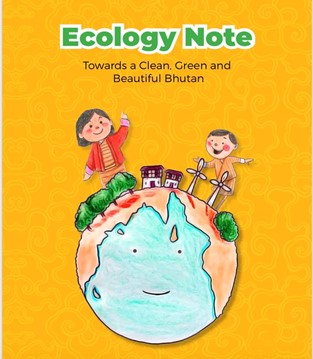 【Case Sharing】Case Study of Environmental Education in Bhutan - shared by Ugyen Tshomo
Arthor:
Ugyen Tshomo
Position:
Environment Officer
Affiliation:
National Environment Commission Secretariat, Thimphu, Bhutan.


Introduction
The Article 5 on Environment under the Constitution of the Kingdom of Bhutan mandates a minimum of sixty percent of Bhutan's total land of forest cover for all time (RGoB, 2008). The philosophy of Gross National Happiness envisioned by the Fourth King of Bhutan embeds environmental conservation as one of its four pillars. On 1st April 2015, during the Royal Bhutan Flower Exhibition, His Majesty the Fifth King of Bhutan addressed the significance of having a clean and safe environment for everyone to live: 'Where we live must be clean, safe, organized, and beautiful, for national integrity, national pride, and for our bright future. This too is nation building.' To the outside world, Bhutan has championed as an epitome of environment stewardship including the carbon negative country recognization by numerous well accredited international organizations. However, Bhutan faces challenges in preserving pristine environment owing to its transboundary geographical location shared with the two developed and populous countries-China in the North and India in the South. In addition, rapid economic development under global influence and increased rural to urban influx to its total population of 727145 (NSB, 2021) within the small total area of 38,394 km2 poses environmental challenges.
Environmental Conservation Mandate
In Bhutan, the National Environment Commission (NEC) is the apex body in decision making and coordinating authority on all the matters relating to the protection, conservation and improvement of the natural environment and promote sustainable development. The main mandates of NEC as a cross sectoral agency upholds Article 5 of the Constitution: (a) Protect, conserve and improve the pristine environment and safeguard the biodiversity of the country; (b) Prevent pollution and ecological degradation; (c) Secure ecologically balanced sustainable development while promoting justifiable economic and social development; and (d) Ensure a safe and healthy environment (RGoB, 2008). To achieve these mandates, NEC collaborate with all relevant stakeholders for consultations, decision making processes and implementations. Environmental conservation and management in the country are guided by legalisation in place: National Forest Act (1969), Land Law (1979), Pastureland Law (1979); Inheritance law (1979), Livestock Law (1979), Wildlife Act (1985), Plant and Quarantine Act and Regulations, Forest and Nature Conservation Act (1995), Mining Act (1997), Environment Assessment Act (2000), National Environment Protection Act of Bhutan 2007, Waste Prevention and Management Act of Bhutan, 2009, and The Water Act of Bhutan 2011. The Article 5 of the Constitution of the Kingdom of Bhutan, it states "
Every Bhutanese is a trustee of the Kingdom's natural resources and environment for the benefit of the present and future generations and it is the fundamental duty of every citizen to contribute to the protection of the natural environment, conservation of the rich biodiversity of Bhutan and prevention of all forms of ecological degradation including noise, visual and physical pollution through the adoption and support of environment friendly practices and policies.
" To conserve healthy environment and move towards sustainable development, it is imperative to create social awareness and bring behavioural changes through environmental education from pre-primary school children to youth.
Integration of Environmental Education in Formal Curriculum
Bhutan has successfully integrated environmental education in formal curriculum through stakeholder collaborations and policy support. The key stakeholders include the Ministry of Education, Royal Education Council, National Environment Commission, to mention few. In 1986, the Ministry of Education launched New Approach to Primary Education (NAPE) to provide Environmental Education in primary school curriculum (Tenzin & Maxwell, 2008). Based on its successful learning experiences, chapters on environment were integrated in various subjects from middle secondary to higher secondary schools in Bhutan, for instance, the geography of Bhutan Classes IX–X; introductory economics for Classes IX–X; Bhutan economics for Classes XI and XII; natural resources of Bhutan and their conservation for Class IX; and tissue culture in practice in Bhutan for Class XII curriculum (Tenzin & Maxwell, 2008). Later in 2013, classes IX-X had an optional course completely dedicated on environmental science. For tertiary education under the Royal University of Bhutan: Sherubtse College, Royal Thimphu College, College of Natural Resources and College of Science and Technology have modules offered on environment including waste management for environmental science core and electives. Bhutan is blessed to have Her Majesty the Queen Jetsun Pema as patron of environment and environmental support from the government. The
National Waste Management Strategy 2019
of Bhutan also has emphasized the need for behavioural change as one of the strategic tools for schools and the general public. To bridge the gap,
the Ecology Note: Towards a Clean, Green and Beautiful Bhutan
was launched on 14th October 2020, coinciding with the World Environmental Education Day by the National Environment Commission in close collaborations with The IGES Centre collaborating with UNEP on Environmental Technologies (CCET), the United Nations Environment Program- International Environmental Technology Centre (UNEP IETC) and the Royal Education Council (REC). Ecology Note of Bhutan discusses on environmental issues and solutions to partake ownerships in conserving the pristine environment through behavioral change in early age school children (Tshomo et al., 2020). Under the support of the Waste Management Flagship Program, the English Ecology Note was well positioned in the revised science curriculum of classes IV-VIII in 2020 to better serve students and teachers to tailor their classroom activities with clear goals based on Active Learning Approach. On January 23rd- 27th 2021, the National Environment Commission developed the capacity of more than 500 teachers teaching science classes IV-VII across the country on the teacher's guide of Ecology Note and integration of Ecology Note into the Science Curriculum with support of the Ministry of Education of Bhutan and the Royal Education Council.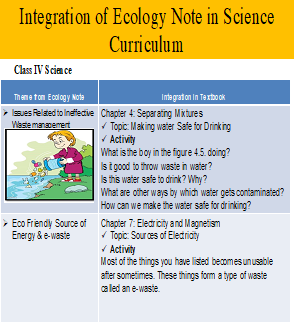 Conclusion
Environmental Education of Bhutan entails us with a unique case from rest of the world. Bhutan does not have an Environmental Education (EE) act/strategy or dedicated Environmental Department/organization to oversee the underpinnings of EE actions and its significance. Nevertheless, Bhutan has successfully integrated formalizing environmental education from primary to higher secondary schools and tertiary colleges across the country through stakeholders' collaborations and consultations with support from the government. On way forward, there is an enormous potential for Bhutan to expand the scope of environmental education from formal education to citizen science and green innovations.
References
1. RGoB. (2008).
The Constitution of the Kingdom of Bhutan
. (2008).
2. National Statistics Bureau (2019).
Statistics Year Book
, National Statistics Bureau. (2021).
3. Tshomo et al. (2020).
Ecology Note for Bhutan
, UNEP. (2020)
4. Tenzin, W., & Maxwell, T. W. (2008). "Primary science curriculum in Bhutan: Teaching environmental science". In R. K. Coll & N. Taylor (Eds.), Science education in context: An international perspective of the influence of context on science curriculum development, implementation, and the student- experienced curriculum (pp. 313–332). Rotterdam, The Netherlands: Sense Publishers.
-- about
Advisory Committee Meeting
--
Case sharing
from other countries