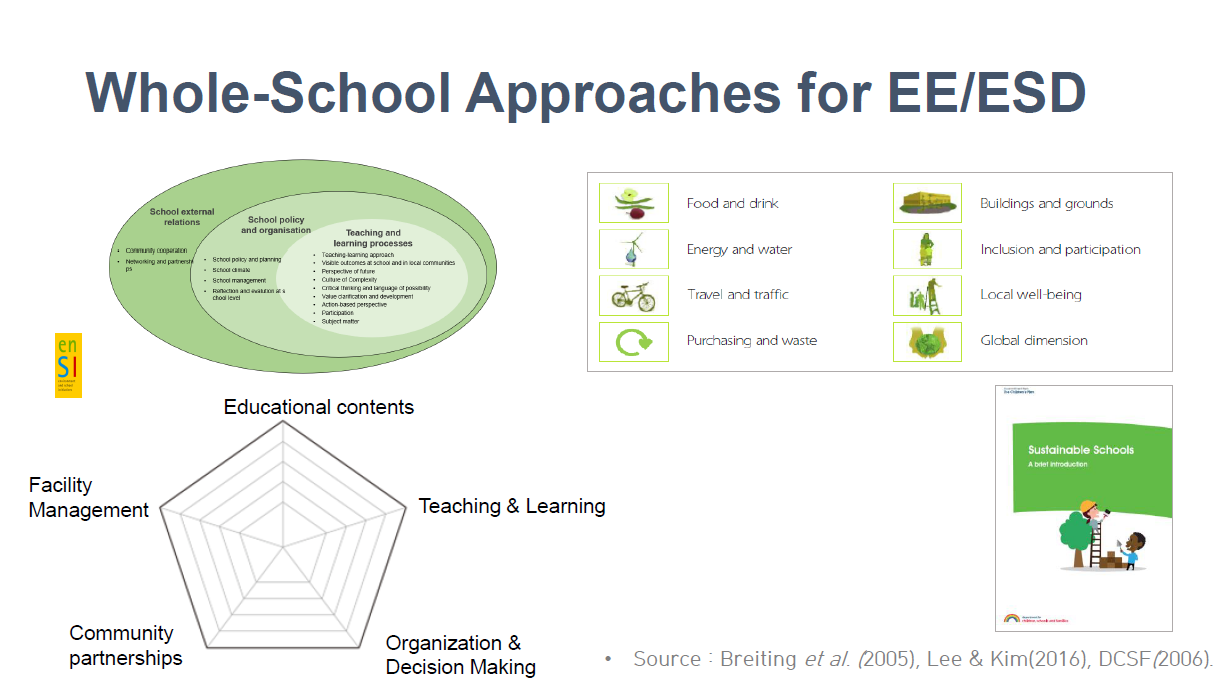 【Case Sharing】School-Community Partnerships for Mitigation of Climate Change and Energy Transition - shared by Sun-Kyung Lee
Arthor:
Sun-Kyung Lee
1
, Hyungson Ju
2
, Namsoo Kim
3
Position:
Professor
Affiliation:
Cheongju National University of Education
1
, Korea National Open University
2
, Korea Research Institute for Environment & Development
3
Local communities have been regarded as very important elements, when considering a whole school approach in education for sustainable development (ESD) (Breiting
et al.
, 2005). This means that the school is not an institution separate from society that provides abstracted general knowledge, but should play an active role in society as an important stakeholder for community development. In Seongdaegol Village, located in the southeastern part of Seoul, the energy transition initiative started when a couple of community members started a movement to operate a small children's library to improve the educational environment in this area. The 2011 Fukushima Nuclear Disaster led them to ruminate on energy independence/transition, as well as realizing what they can do themselves for the region. They took energy education classes together, starting a campaign to reduce the consumption of energy for home use by setting up energy-saving stations. In 2012, energy-related events were added to community marketplaces in order to hold an energy festival, which has now become an annual comminity tradition. Energy cooperatives 'Village-dot-Living' and 'Energy Supermarket' were established in 2013 and 2014, respectively. Since 2015, the Energy Transition Living Lab has operated where the local government, residents, and community firms study energy transition methods together for use in their own environment. The living lab has studied how to create energy transition culture, recruiting and managing village researchers from communities to seek ways to resolve a variety of community issues. In 2019, focusing on overcoming and adapting to climate crises, it conducted community surveys in which two students from a nearby high school participated, along with two other students from another high school, as researchers.
Seongdaegol has offered energy and climate change education (energy-saving, appropriate technology, eco-architecture, new and renewable energy, etc.) for elementary, middle and high school students in the region since 2012. In 2012, a community activist contacted Kuksabong middle school to propose an energy education scheme, which served as an opportunity for the community to offer climate change and energy transition education. The school was designated as one of Innovation schools by Seoul Education Office in 2011, which operated for the next four years and has led its teachers to actively participate in learning community activities. Cooperation with Seongdaegol, an energy-independent village, was initiated when this middle school asked a children's library in the region to offer special classes for students with low literacy skills in 2011. In 2012 the village proposed offering energy education to students, leading to an extracurricular class for an environmental club (setting up energy-saving stations). In 2014, based on school-community collaboration, education on energy, climate change, and cooperatives were offered through a creative experience class for second graders, conducting activities to construct zero-energy houses on its playground. The school has cooperated with the energy-independent village to continuously provide climate change and energy transition education via various opportunities including regular classes, club activities, and creative experience activities. In 2016, via school-community cooperation, a school eco-cafe for safe food was set up in the form of a social cooperative. In 2017, the student council, the teaching staff, parents, and communities installed a solar power plant and set up a consultative body for converting the source of school energy into new and renewable energy. Energy-independent village members have played a key role as community members and parents in the process of constructing solar power plants.
On the other hand, a Geography teacher in Seongnam high school happened to see via a newspaper article in 2015 that an energy-independent village initiative was launched in nearby areas. She visited an energy market and met the director of the Seongdaegol Energy Transition Village Initiative. Several months later, she, together with students for a make-up class for World Geography, conducted community mapping for good stores participating in regional energy-saving schemes in order to share with students the energy-saving and urban regeneration activities. The Good Store Promotion Campaign is a community program where Seongdaegol village encourages traditional market shops to take part in the energy-saving initiative for the summer season. For extracurricular lectures and camp programs operated by the school for helping students cultivate and design future visions and careers, energy-independent village B director Kim was invited as one of the special lecturers. This program was designed to provide opportunities for students to have a clear understanding of energy transition programs carried out in the region. Cases in point are as follows: 2015 Humanities & Social Science Camp,' 'Future & Imagination Academy,' and a 2016 reading camp titled 'Energy Transition & Democracy.' When the humanities and social science camp titled 'Think Out of the Box, Stand Together' was held in 2018, participants went on a field trip to directly experience regional energy transition movements under the guidance of director Kim.
In 2019, the school supported a club dubbed 'Energy Angels' in which students having interest in energy-saving participate. Club members implemented the campaign, selecting a theme on energy and climate crises every month. Students were informed of what they can do for energy-saving via the school bulletin board for a week or for ten days, thereafter conducting activities by group for answering quizzes during lunch breaks. The students acquire information on environment, energy, and climate change via regular classes and a diversity of extracurricular activities. For instance, 'Integrated Society (1st graders),' 'World Geography (2nd graders),' and 'Korean Geography and Travel Geography (3rd graders)' deal with environment-related topics. Moreover, students learn about climate change and energy via club activities, humanities and social science camps, and reading camps, visiting energy transition sites in the region, and carrying out a school-wide campaign for offering related information to other students. These have led the students to participate in the '2019 1
st
Climate Change Speech Contest' and to attend '2020 Climate Crisis Seminar for General Election Candidates' (regional event), '2019 Citizens' Indaba' held by the Seoul Metropolitan Government under the title of 'Greenhouse Gas Reduction, Citizens' Solutions,' and '2019 Energy Transition Living Lab Forum' (regional event), as youth representatives.
A regional energy festival held under the leadership of the energy-independent village opened online in 2021 due to the COVID-19 pandemic. Students from middle school C and high school D took part in planning and operating the event along with students from nearby middle and high schools. Cooperation between Seongdaegol (energy-independent village) and the two schools is considered as a very meaningful case in terms of community-connected ESD. Breiting presents the use of community characteristics and issues for field trips and active learning as the first step for school-community cooperation, judging that schools are able to play a pivotal role in planning the sustainable development of communities. It is important to offer school facilities and capabilities for community research and action in promoting the sustainability of communities. In the process, schools act as key social centers that deliver expertise and share responsibilities with other community groups. Participating in a variety of community activities, students can gain opportunities to study and perform the roles of active citizens.
References
Breiting, S., Mayer, M. & Mogensen, F. (2005).
Quality Criteria for ESD Schools.
Environment and School Initiatives.
-- about
Advisory Committee Meeting
--
Case sharing
from other countries