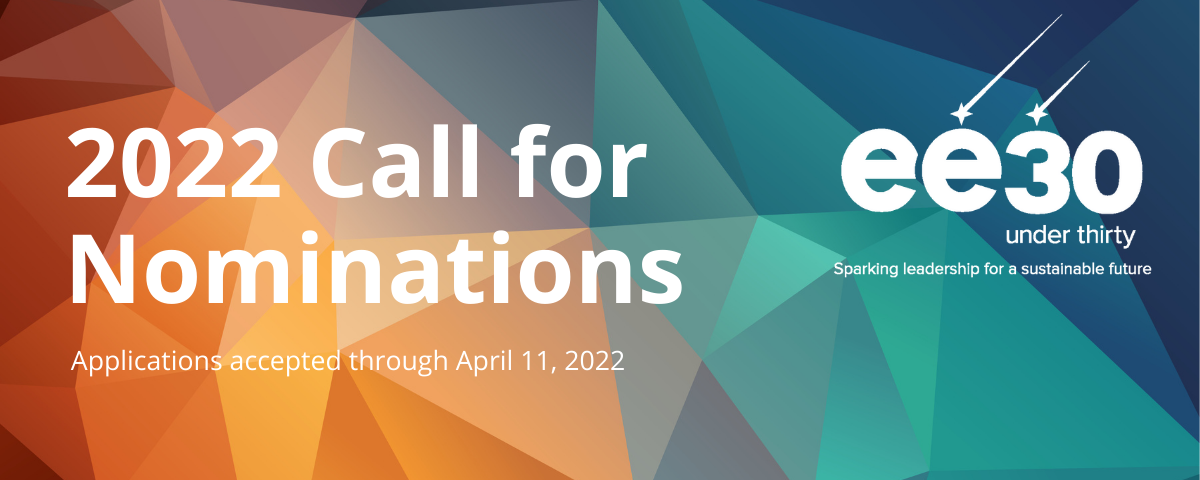 EE 30 Under 30 Class of 2022
Are you leading change and inspiring others in your community, organization, or network? Are you using education to engage people in building a sustainable future? We want to hear from you!

The EE 30 Under 30 Class of 2022 will receive global recognition, join a growing community of inspiring EE leaders, and receive ongoing opportunities for professional development and networking, including scholarship opportunities to attend the 2022 NAAEE conference. We know that environmental education and leadership take many different forms, and welcome applicants from across sectors and disciplines. You can read more about what environmental education is and why it matters here and find some examples of leadership (if you need some inspiration!) in our online application.
Eligibility: Nominees must be 30 years old or under (as of December 31, 2022). We accept nominees from any country in the world. Nominations must be submitted in English, but your nomination will not be judged based on your English ability.
Deadline: April 11 at 11:59 PM US Eastern Time
About EE 30 Under 30: Since 2016, NAAEE's EE 30 Under 30 program has recognized 180 individuals from 40 countries who are making a difference through environmental education. To address today's complex challenges, we need a diversity of perspectives, skills, and experiences. EE 30 Under 30 celebrates the unique and passionate leadership of talented young leaders around the world and gives them a professional boost to increase their impact. Each year our awardees join a growing alumni network of inspiring environmental education leaders and receive ongoing opportunities to network, grow professionally, and promote their work. This program is made possible by the Global Environmental Education Partnership, and the U.S. Forest Service.
For more information about the program and to read alumni biographies, visit naaee.org/ee30under30. Please direct any questions to Nina Hamilton at nina@naaee.org.
If you experience any technical issues, please contact Submittable here.
(for more information -- https://naaee.submittable.com/submit/218485/ee-30-under-30-class-of-2022)